Park Guell History
The history of Park Guell dates back to 1900, when Eusebi Güell, who named this park, purchased a plot of land on a hill in the south of Barcelona to establish a garden city.
He commissioned the renowned architect of this era, Antoni Gaudí, to design and construct Park Güell.
It was initially designed as an exclusive residential enclave intended for Catalan families.
Here is a brief and enriched overview of Park Guell's history.
Who was Eusebi Güell?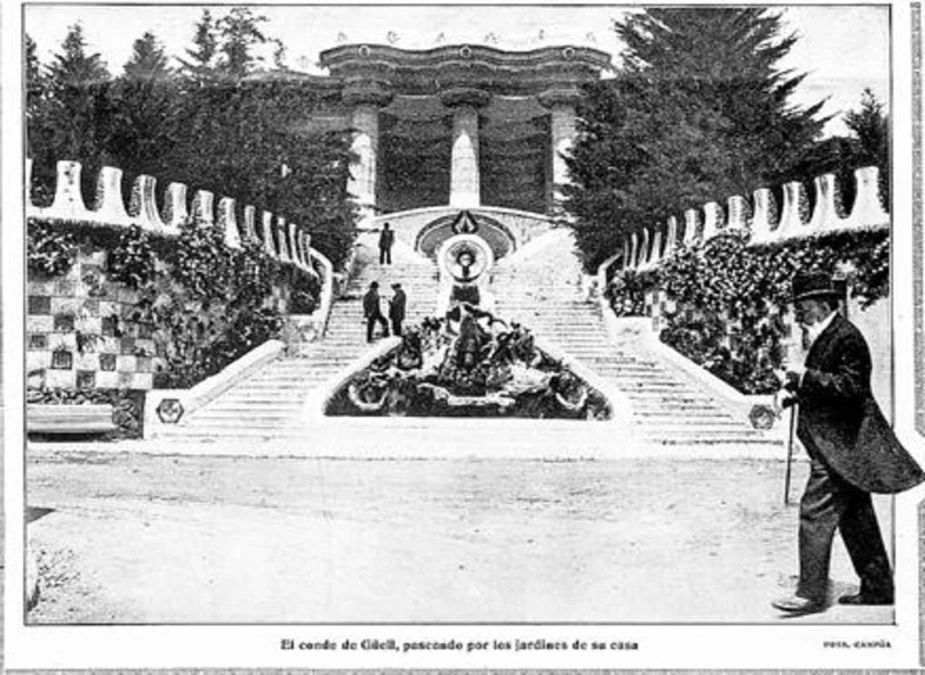 Eusebi Güell (15 December 1846 – 8 July 1918) was a prominent Catalan businessman and philanthropist of his era.
He is known for his role as a patron of the renowned architect Antoni Gaudí, commissioning iconic projects, including the construction of Park Güell and the Palau Güell.
Güell also played a significant role in advancing Barcelona as a thriving hub of culture and commerce.
Who was Antoni Gaudí?
Antoni Gaudí was a visionary architect and designer who stood at the forefront of the Art Nouveau movement in Spain.
His transformative contributions to Barcelona's architectural landscape created some of the city's most extraordinary residences.
Gaudí showed an impressive legacy, with seven of his masterpieces earning a coveted place on UNESCO's World Heritage List.
These include Sagrada Família, Park Güell, Casa Milà-La Pedrera,Casa Batlló, Palau Güell, Casa Vicens, Colònia Güell. 
Park Güell Construction 
Eusebi Güell tasked Gaudi with drafting ideas for an estate for wealthy families on a large property he had acquired in the Muntanya Pelada zone (bare mountain).
Its location was exceptional, in a tranquil setting with a stunning picture of the sea and the Barcelona Plain.
In October 1900, construction began on the site's terracing, and progress in the building work moved swiftly.
In 1902, the first plot was purchased by lawyer Martí Trias i Domènech, a close friend of Güell.
Gaudi moved there to live with his father and niece until he died in 1926. Surprisingly, the house he lived in was built by Francesc Berenguer, not him.
Shortly after that, in 1907, Eusebi Güell transformed the pre-existing mansion, known as Casa Larrard – into his regular residence.
By this point, the Hypostyle Room had been completely covered, and events began to take place in the main square. 
The estate was designed to accommodate 60 triangular-shaped plots, with a network of walkways, viaducts, and steps to accommodate the land's lay. 
Unfortunately, the outbreak of World War I in 1914, coupled with challenges in selling the properties, resulted in a complete halt and abandonment of the construction work.
At that time, only two houses and the park were completed.
We recommend taking a Park Güell guided tour to fully uncover the significant parts of Antoni Gaudi's great urbanistic project.
The transition from private estate to public park
The works were abandoned in 1914 due to a lack of purchasers.
Therefore, the park became a vast private garden, which Güell allowed to be used for public events.
It also began appearing in Barcelona tourist guides as one of the city's attractions and became a municipal park in 1926.
At the same time, the zone to the left of the entrance was turned into an attractive flower nursery by the City Council.
Gaudi's house in Park Güell was opened to the locals as the Gaudi House Museum in 1963, thanks to the efforts of friends of Gaudi.
Park Güell became a popular public park among Barcelona residents and a significant tourist destination.
So, knowing the history of Park Güell is also crucial for appreciating its architectural brilliance.
Today, Park Güell is one of the world's most attractive gardens – attracting thousands of tourists daily.
It was designated as a UNESCO World Heritage Site in 1984.
Park Guell Architecture
Park Güell is a splendid testament to Antoni Gaudi's distinctive Modernisme aesthetic, characterized by the mesmerizing Trencadís architecture that graces the entire park. 
Gaudi believed in mirroring the organic shapes found in nature, which is why you'll encounter graceful, flowing lines and structures throughout.
An example of this artistry is "El Drac," a breathtaking mosaic masterpiece that greets visitors at the entrance. 
It truly captures the essence of Gaudi's creative vision.
In addition to its artistic elements, Park Güell also pays homage to Catalan pride and spiritual contemplation.
Featured Image: SmartHistory.org