Park Guell Lizard (El Drac)
El Drac, Park Guell's colorful guardian, is one of the most popular and favorite attractions in the Park.
Visitors from all over the world come to see its unique appearance and brilliant artistry of mosaic tiles.
Almost everyone here takes a picture or a selfie with the famed Park Guell Lizard.
Make sure to buy Park Guell tickets and witness the popular lizard—"El Drac," at the entrance.
You may have to wait for your picture with the famous Lizard during peak hours.
So book your tickets online in advance to visit Park Güell as soon as it opens to avoid crowds and get great photos!
The Lizard was created by Joseph Maria Jujo using broken shards of mosaic tiles, a style known as trencadís that Gaudi helped pioneer.
Together, they brought El Drac to life, adorning it with vibrant pieces of discarded ceramic tiles.
The salamander's colorful scales are created with mosaic tiles and vary in color, shape, and size and are strewn asymmetrically – a style found throughout the park.
Book your Park Guell tickets online in advance to visit Park Güell as soon as it opens to avoid crowds and get great photos—without waiting in long lines.
Park Guell lizard location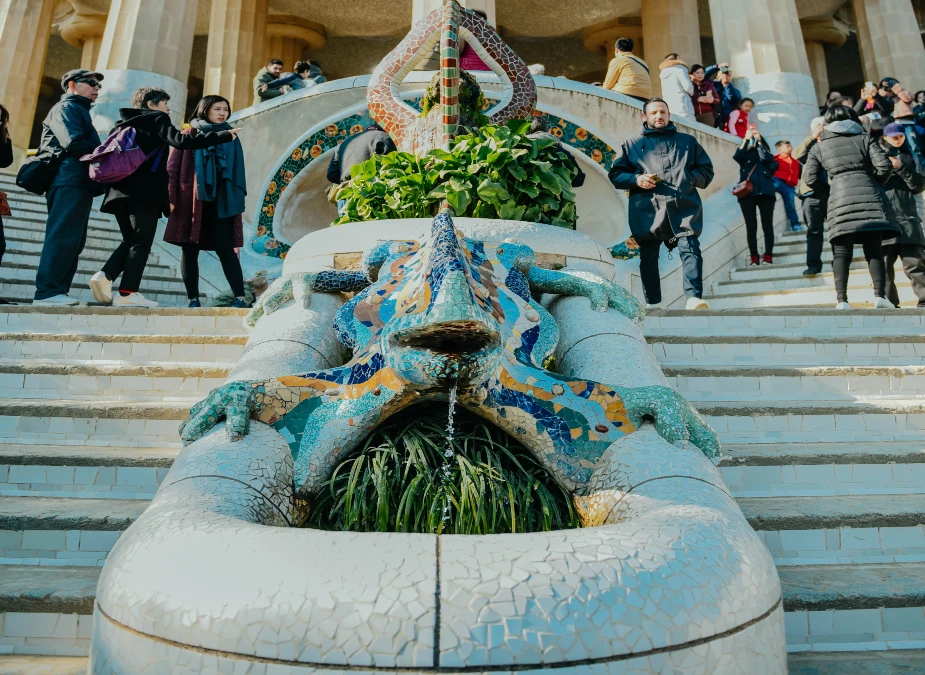 You can find a giant stairway to the Hypostyle Room near the main entrance, and you will find the Park Guell Lizard on this stairwell.
The Dragon staircase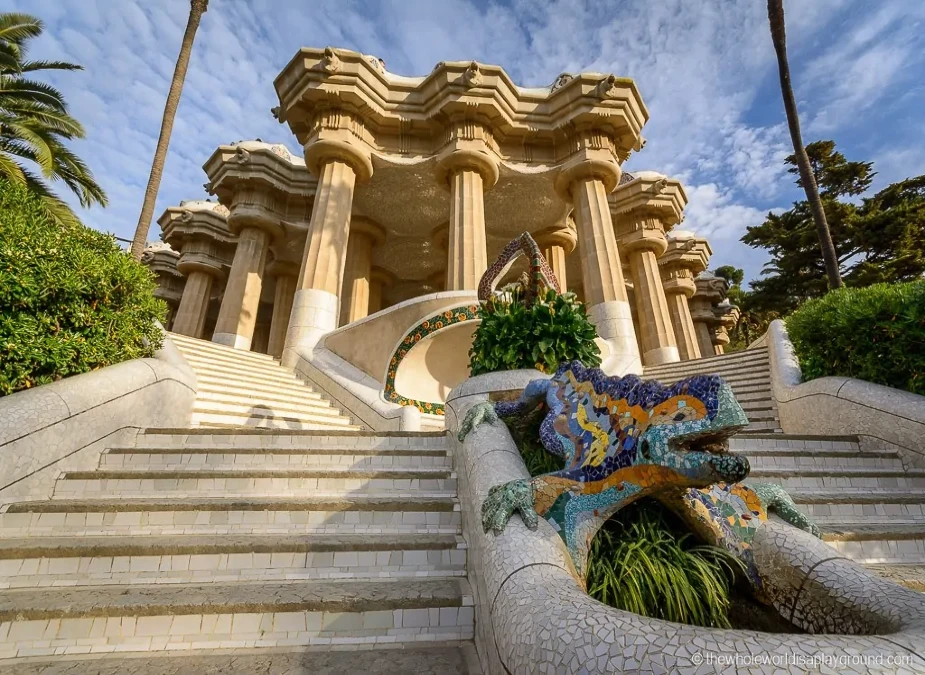 This dragon stairway Park Guell is one of the park's biggest attractions and is facing towards the park's entrance.
Two large white staircases rise from the start, each with a beautiful scaly balustrade and several nooks of shrubbery, flower gardens, and trickling dragon fountains surrounding it.
Two walls with merlons that form terraces surround the stairway. There are two caverns under this. The one on the right served as a waiting area.
The Catalan emblem can be found halfway through, on the second landing.
The Park Guell dragon or salamander, a defining feature of Park Güell history and a symbol of Barcelona, can be found higher up. 
An Odeon, a Greek-theater-shaped bench, may be found on the last flight of steps, sheltered by the Hypostyle Room.
Featured Image: Rivendellstudios /Getty Images Signature